VICTOR BOHM
CEO / Executive Producer
The world of film is a business, those who forget that will ultimately be rewarded with failure. So, who better to be Executive Producer of White Dwarf Pictures than Victor Bohm, a successful businessman with a proven track record. Victor ran a successful fabrication business known as Versitech Industries for 25 years and recently sold it. Having had more than 30 employees Victor knows how to keep a business afloat. Luckily for White Dwarf Pictures, he has also been bringing that applied knowledge and expertise to the world of film. For 30 years Victor has been an Actor in multiple Canadian productions and most recently had a starring role in White Dwarf Pictures' latest feature action film "Hell or Tide Water" where he played Hans Steinrech, a Norwegian Oil Executive. In addition to Victor's business, acting and industrial skills, he is also an experienced prop maker and set builder by default, giving White Dwarf Pictures a competitive edge in every aspect of production.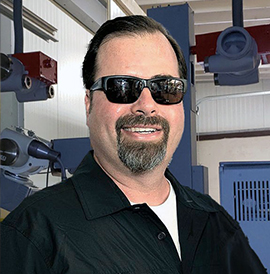 SCOTT C. NEWMAN
CEO/Writer/Director
Scott C. Newman has been in the news and entertainment field for nearly two decades. From being on the set of the Red Green show for 5 years to working as a Production Editor for such Television news greats as Peter Mansbridge and Adrienne Arsenault. After leaving the CBC Scott spent three years Editing feature documentaries for Global's current affairs program 16X9, winning a Canadian Screen award in the process. In 2012 Scott started his own production company along with his Friend Victor G. Bohm. Together they produced a pilot for a high-concept reality show called: Biblical Proportions. A Survivor meets the Ten Commandments thrill ride. Scott also Co-produced and directed the feature-length documentary The Water Ceremony, spending a week filming in an aboriginal community outside Saskatchewan where he captured an international gathering that included important Elders, Environmentalists, and Hollywood actors including Bill Pullman. In 2017 Scott also Edited two feature-length documentaries on Climate Change narrated by Oscar Award winner Emma Thompson and renowned actor Danny Glover.

Currently, Scott is writing a sequel to his first feature film released in 2020 titled Hell or Tide Water, a political thriller/action film that aired numerous times on National TV. Scott is also producing a documentary on Hamilton, ON's 18 year Mayor Bob Morrow and developing an Antiques games show both of which will air on Cable 14 in the fall.